Document - HIPAA File De-Identification Program
This program removes the Protected Health Information (PHI) from your HIPAA files. You can use it to de-identify your HIPAA file before sending it to us for debugging. This program is free and extremely easy to use. It can process the follwoing types of HIPAA files:
837 P,D,I Health Care Claim, Professional, Dental, and Institutional
835 Health Care Claim Payment/Advice
834 Health Care Benefit Enrollment and Maintenance
820 Payment Order/Remittance Advice
278 Health Care Services Review Request/Response
276/277/277CA Health Care Claim Status Request/Response
270/271 Health Care Eligibility Benefit Inquiry/Response
Below is the program main screen. Select the input and output files. Click on "Execute" button to create the de-identified output file.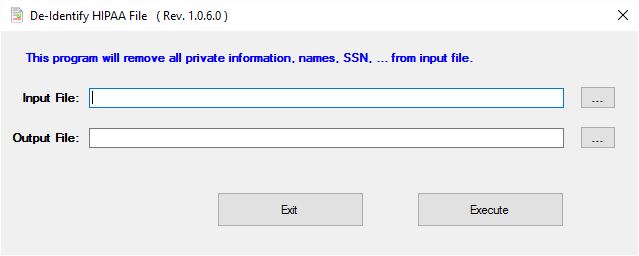 Download HIPAA file De-Identification Tool
---